HeRC researchers inspire the next generation of Health Scientists and Researchers at a recent youth assembly
Posted on September 29, 2014
Three researchers from the Health eResearch Centre gave an inspiring talk to 200 students at a recent widening participation event held at Blackpool and Flyde College.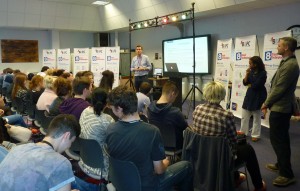 The event, which was designed to highlight health technologies of the future, was delivered to a diverse audience of 16-18 year old students studying Science, Health and Business and highlighted the important use of data in 21st Century healthcare.
The students, currently making decisions about their future, were given a whistle stop tour of what a career as a Health Data Scientist would involve and learnt more about how Healthcare Professionals use eResearch to help inform diagnosis and disease prediction.
Students also had the opportunity to ask questions and learn about the backgrounds and motivations of the HeRC speakers: Dr Danielle Belgrave, Kieran O'Malley and Ellena Badrick and were given an insight into some of the new tech-focused projects that are currently being developed at the Centre.
Dr Danielle Belgrave said:  "It was lovely to get out into the community and meet young people who are so passionate about health and science.  The students were really interested in how data is used to direct decision making in the NHS and in how information can be used to drive new research and help uncover health innovations.
This event was an exciting opportunity to share with the students my own experience working as a health data scientist.  Health Informatics is much more than number-crunching.  It is ream work where health-care professionals from diverse backgrounds work together to discover more effective treatment and management strategies for disease based on data.  I hope that events such as these can inspire the future generation of health-care researchers and help students on the cusp of university life to understand the crucial role they can play in the future of medicine."
The event forms part of HeRC's wider public engagement objectives which includes informing and educating the public on the uses of health data and working with local communities.