Medic in Miami: Videha presents on digitally transforming kidney transplant pathways
Posted on November 27, 2019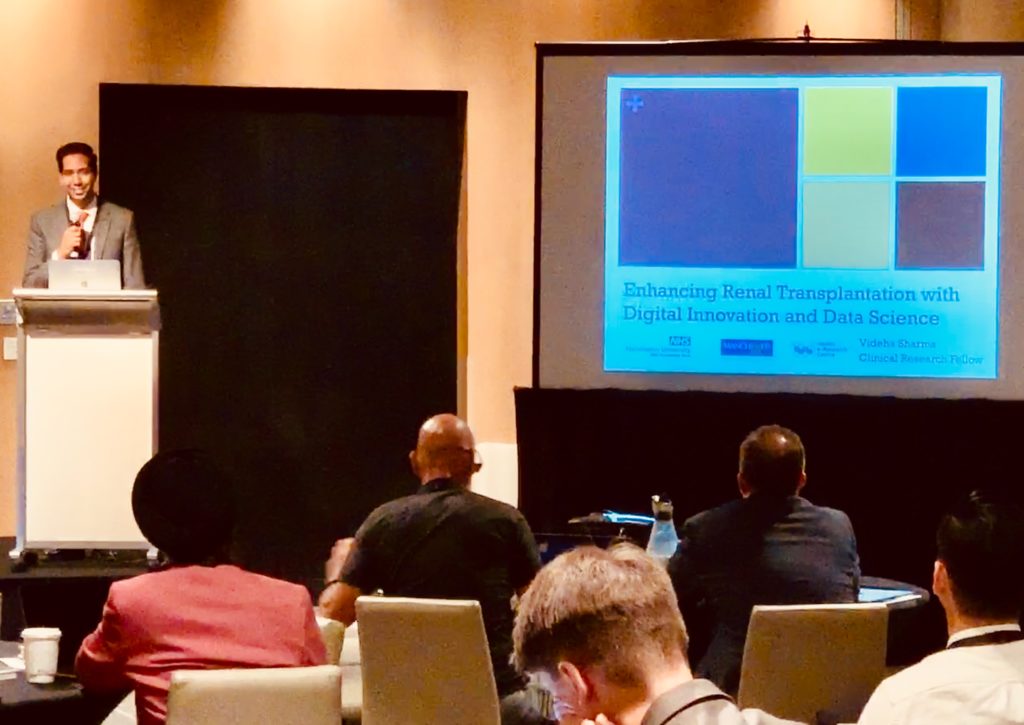 When Surgical Registrar Videha Sharma joined the Centre for Health Informatics as a PhD student in April 2019, he might not have anticipated that within six months of starting his studies he would be presenting his ideas in Miami.
Videha is a trainee transplant surgeon at the Renal Transplant Unit at the Manchester Royal Infirmary. A transplant can be a life-saving and life-changing treatment for patients with kidney failure, allowing them to live healthier and longer lives, without dependence on dialysis. Transplantation has always been an innovative and cutting-edge specialty, combining complex surgical techniques with advanced of medical therapies to avoid rejection of the implanted organ. Unfortunately, many daily clinical processes still rely on paper-based data management. Videha's research examines the potential for transforming kidney transplant pathways around smarter data-driven and digital technologies.
Funded by Manchester University NHS Foundation Trust (MFT) and charity Kidneys for Life, Videha's three-year programme of research will combine analysis of current digital data processes in three NHS Trusts across the North West, with qualitative research into staff perspectives to identify opportunities to improve patient pathways and ultimately clinical care.
MFT is the busiest kidney transplant centre in the UK, undertaking over 300 kidney transplant operations annually. This, in combination with University of Manchester's reputation in the fields of computer science and health data science makes Manchester a unique setting in which to conduct this research. As an experienced surgical registrar, having worked in the North West for a number of years, Videha has the all-important clinical experience and well-established networks across the region's NHS trusts, needed to execute this project successfully.
After hearing about his innovative work, Videha was approached by the professional events organisation AIMed (Artificial Intelligence in Medicine) to present his research at an industry-sponsored event in Miami in October 2019 for clinicians around the use of AI-inspired technology in surgery. Attendees included clinicians and data scientists across surgery, intensive care and anaesthetics.
Commenting on the opportunity, Videha explains:
"My talk was very well received, particularly as I was the only UK speaker, providing an alternative view on health data science research compared to colleagues from the USA. Attendees were keen to hear about data management processes in the NHS, and were surprised to hear that we also do not have a unified national electronic health record system. The conference provided an excellent opportunity to network and interact with like-minded individuals and I have been invited to speak again at their European event in London in 2020."